PrymApps was founded in 2013, from a core team with extensive experience in the IT industry, gathered through work and projects in local and highly ranked international companies.
Our knowledge and ideas for optimisation are embedded in the solutions that we deliver.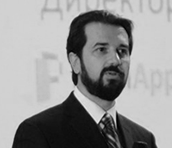 Ilijanco Gagovski
Chief Executive Officer
Ilijanco Gagovski is a co-founder and Chief Executive Officer.
His professional experience includes more than 23 years active involvement in the IT industry, 11 years as manager of Microsoft Macedonia office, 2 years as sales & marketing manager in Login Systems and 7 years in MBS – IBM Alliance.
PrymApps

Ilija Jovanoski
Chief Technology Officer
Ilija Jovanoski is a co-founder and Chief Technology Officer.
He has more than 18 years experience in development, consulting, audit and security of information systems while working for Deloitte, Halkbank and NBRM. He has a master degree in computer science and engineering, ITIL Foundation and PRINCE Project management certificates and is a CISA (Certified Infomation Systems Auditor).
PrymApps